Have a iPhone Repair we don't list?
Email or Call and we will let you know if our Techs can help
Find your iPhone Model Number
How to find your iPhone Model Number?
The majority of iPhone owners can tell you very quickly what kind of phone they have: iPhone 8, iPhone 8 Plus or iPhone 7. Did you know that each iPhone has a few different model numbers? You normally don't need this number unless you need a repair or to get more technical details. There are two different ways to find your model number.
Older iPhones
This is the best way if your screen is cracked or damaged. You are looking for a five-digit alphanumeric string starting with an "A". The "A" number or model number is on the back of your iPhone and you will see it located in the middle lower half. Look for the iPhone stamp, then you will see right under the stamp "Designed by Apple in California Assembled in China". The third line has the info you are looking for, it will say Model and then a number beginning with "A", such as A1660 for the iPhone 7.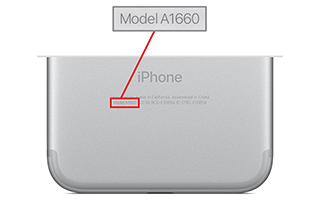 Newer and Older iPhones
This method is relatively easy as well. In your iPhone's settings app, tap General, then tap About. Once in the About section, scroll down to Model and you will see the SKU number such as MNAD2LL/A. Tap that number your iPhone will show you the "A" Number. This is the method best used for iPhone X, iPhone 8 and iPhone 8 Plus because Apple stopped stamping the "A" Number on the back.
See all Model Numbers for IOS Devices on the iPhone Wiki page.
iPhone 5S

A1453, A1457, A1518, A1528, A1530, A1533

iPhone 5C

A1456, A1507, A1516, A1529, A1532
iPhone Repair Chicago
If you have ever cracked your iPhone you realize how hard life can be without text, emails or music. Don't worry, you don't have to have to go to a dealer and get a new phone. ONCALLERS® can fix your phone and keep it up and running for a lot less money.
Common iPhone issues
The Apple iPhone is one of the greatest technologies to come out in the last 10 years but even the best can have problems. The most common problem is a cracked phone or screen. Sometimes it's called ADH (Accidental Damage from Handling) and ONCALLERS® can fix that. Many screens can be fixed within one hour! Other problems include battery damage (slow charge or bubbling up), headphone jacks are dirty, home button is jammed or broken, volume buttons are sticking or the charging port is malfunctioning.
We have many different ways to get your devices repaired ONCALLERS®
We have a number of choices for all our customers to get their devices repaired. The traditional way is to walk right in to one of our stores and have one of our friendly techs take care of you. Some repairs can be done within one hour! Set up an appointment and save even more time by bypassing the line.
Don't have time to come to one of our stores? No problem! Call us at 855-WE-FIX-99 and have one of our techs come to you for no additional cost (subject to a pick-up radius and driver availability). Are you to far away to visit our store or get a pick up? Again, ONCALLERS® has a solution. Check out our mail-in and repair service.